First of all… What is BergaMet?
It's actually a fruit! Similar looking (and tasting) to a lemon, Bergamot is a citrus fruit, native to the Southern Italian region of Calabria. Traditionally, the fruit is used to make tea, essential oil and fragrance due to its delightful scent, however it's also somewhat of a superfood.
What gives Bergamot superfood status?
The pulp of the bergamot fruit contains a whole host of antioxidants known as bioflavonoids, that actually work in the same way cholesterol medication does. Cholesterol medications work by blocking the HMG-CoA enzyme; responsible for producing cholesterol. The amazing thing about Bergamot is that it actually targets this same enzyme pathway! Additionally, Bergamot has been shown to reduce inflammation, can lower blood sugar levels and is helpful for diabetic patients.
How was this discovered?
It is a tradition for Italians living in this region to enjoy the fragrant Bergamot fruit and among themselves, it was widely known that they did not suffer from health issues heart disease or diabetes.
Over 200 scientific human and animal studies have been performed on the benefits of Bergamot and its health boosting properties. It is available in a concentrated and therapeutic dose in both tablet and capsule form which combines the bioflavonoids from the skin, pith and flesh of the Bergamot fruit.
So is BergaMet just Bergamot?
Yes and no. BergaMet is the brand name for a range of products containing a concentrated and therapeutic dose of the Bergamot fruit – a minimum of 500mg of Bergamot per capsule/tablet.
BergaMet Pro+ contains 650mg of Bergamot, which is the highest quantity of Bergamot available in any of the BergaMet products. Additionally, this product contains ascorbic acid, chromium, olive leaf extract and alpha lipoic acid. The combination of these ingredients work synergistically to lower cholesterol, balance blood sugar levels and lower blood pressure.
BergaMet Mega O+ contains 600mg of Bergamot in conjunction with ascorbic acid, olive leaf extract and magnesium. This formula is very similar to the Pro+ variety, as it also helps to lower cholesterol, blood sugar levels and blood pressure. The main difference is that the Mega +O contains magnesium. Magnesium is a hugely abundant mineral within the body. It's also required for maintaining a regular heartbeat and plays a role within many of our neurotransmitters. Magnesium is the fastest depleted mineral within the body – we lose it rapidly during times of stress, when we're sleep deprived and when our diet is poor.
BergaMet Mega +O is the chosen suggested bergamot product by cardiologists; including Dr. Ross Walker. This is mostly due to the fact that this product has been chosen for testing within clinical evidence trials.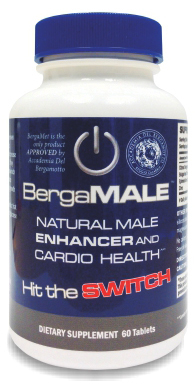 BergaMALE is a men's health formula combination of Bergamot fruit and herbs geared at promoting libido and endurance in men. BergaMALE contains 500mg Bergamot, along with Tribulus, Zinc and Epimedium sagittatum (horny goat weed). This product not only helps to manage cholesterol levels and boost heart health, but has been shown to help maintain healthy testosterone levels, increase muscular strength and increase libido.
BergaFEMME is a women's health formula combination of Bergamot fruit and herbs geared at decreasing menopausal symptoms, assisting with common hormonal imbalances in women and boosting libido in women. Like BergaMALE, this product also contains 500mg of Bergamot, along with Maca, Damiana and Tribulus.
Dosage
All BergaMet products have a recommended dose of one capsule, twice daily. We recommend you refer to your healthcare practitioner to prescribe an appropriate dose within your current healthcare regime.
Where do I buy BergaMet from?
Bergamet is available from Natural Chemist. We deliver Australia-wide and internationally. Free shipping is available for orders over $99. The products are available on the following links.
References
http://bergamet.com.au