Out of stock
Notify me when it's back in stock.
Free AU Delivery on orders over $99
Worldwide Delivery on +6,000 products
Features and Benefits
Kids Good Stuff is a great way to help your child get the nutrients they need to keep them happy and healthy from the inside out.
Kids Good Stuff is not a substitute for healthy, balanced meals, but is a daily supplement to help fill key gaps in the diet of growing, active kids, so they can be at their best.
Built on a foundation of nutrient-rich wholefoods including microalgae, mushrooms, vegetables and high polyphenol fruit and berry extracts, Kids Good Stuff provides the all-important armoury of phytonutrients, trace and ultra-trace minerals necessary for proper absorption and utilisation of the vitamins, minerals and other isolated nutrients used to fortify the formula.
In addition, enzymes, soluble fibre and macrobiotics support digestion and the microbiome and immune and inflammatory modulation, while herbs and other ingredients supply nutrients to support the innate immune, digestive and excretory functions of the body. The blend of ingredients produces a powerful synergistic effect of nutritional benefit.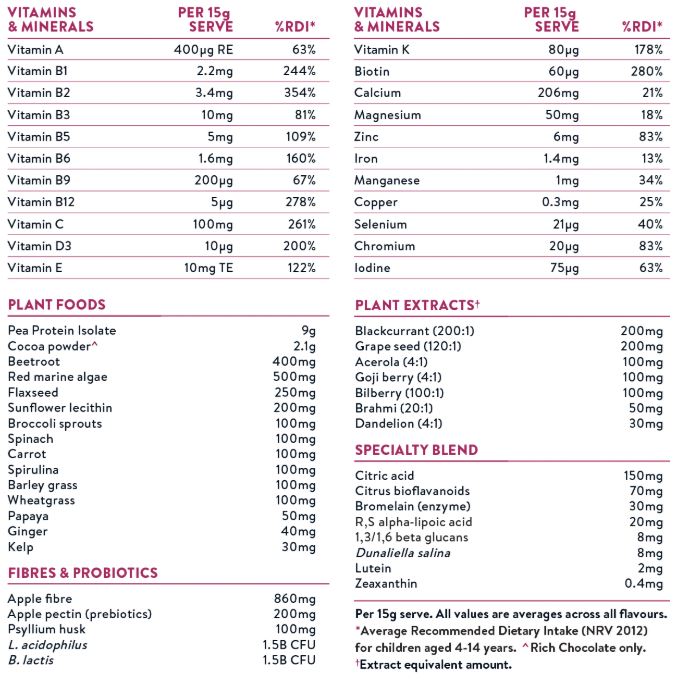 Dose and Usage
Kids Good Stuff should be taken daily.
It can be shaken or stirred to make a Super Vitamin Smoothie, or included in some of our delicious lunchbox snacks