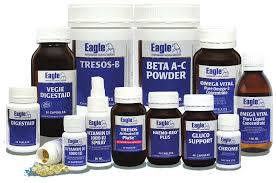 Eagle began with the product now known as Tresos-B. From this small, pioneering acorn, grew a large oak, with the company now producing a range of quality, natural supplements supporting optimal health and wellbeing.
Their philosophy - that personal health improvement must be the primary goal for all of us to achieve a better quality of life. A philosophy realised through their commitment to producing products that are both clinically and cost effective.
The Eagle product range includes:
immune supporting: Beta A-C Tablets
energy and metabolism support: Sublingual B12, Tresos-B, Vit E
preconception and pregnancy: Tresos Natal
blood sugar control: Gluco Support, Chrome
bone health: Vit D3, Bone Matrix Support, Hernidisc
digestive support: Digestaid
To browse Eagle products, please set up an account and log in.
Contact Us
Phone: 1300 882 303
Email: info@naturalchemist.com.au