The allergy season is upon us again with the grass and tree pollen building up to irritating levels for those that are affected.
| | |
| --- | --- |
| Allergen | Time of year when symptoms are worst |
| Grass pollen | October – May |
| Tree pollen | October – April |
| Weeds, spores | September – April |
A few strategies to ensure your allergies don't get the better of you.
Self-help strategies:
Try and stay indoors on days when the pollen count is high – this limits the contact you have with the allergens you're sensitive to.
Keep doors and windows closed when the pollen count is high.
Stay away from areas where there's more pollen such as parks, especially in the early morning and late afternoon and evening when the pollen count is highest.
Wear good-fitting sunglasses to keep pollen out of your eyes.
Take a shower and wash your hair after going outside when the pollen count is high.
Don't dry washing outside if pollen counts are high – pollen may get trapped in the fibres of clothes and bed linen.
Bioceuticals Allergy Care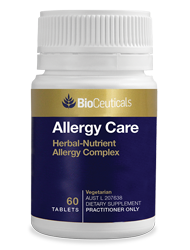 Bioceuticals Allergy Care is a great option for those annoying symptoms of itchy, watery eyes, runny nose and wheezy chests. A great combination of herbs and immune supporting nutrients,
Contains a mix of anti-allergenic herbs from Ayurvedic, traditional Chinese and western herbal medicines – perilla, albizia, baical skullcap

Helps to relieve and reduce seasonal allergy symptoms, such as itchy and watery eyes and nose

Perilla is also used to reduce coughs, calm wheezing and dissolve phlegm

Provides natural antihistamine activity from vitamin C and quercetin as well as nutritional support for normal healthy immune function
Dosage
Take 1 tablet three times daily when you're in the acute stage of allergy, and reduce down to one per day as a preventative measure.
Contact Us
Call the Natural Chemist for input and advise on managing your allergies this Spring.
Phone: 1300 882 303
Email: info@naturalchemist.com.au